vicarious Meta-experience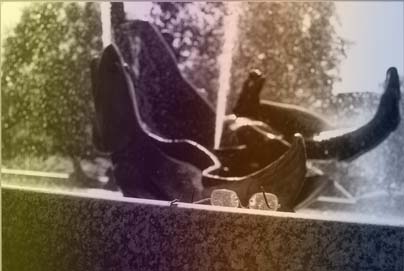 Monday, March 4, 2002
I'm a 22-year-old straight, single and unemployed male who lives with his mom, so I can't be too picky about what sites my secret admirers choose to send anonymous emails through, but, for the record, http://www.secretadmirer.com/ doesn't appear to be blatantly harvesting email addresses for spam mailing lists. Pimping Cupid also works, since I'm sure The Spark already has my email addy from some quiz or something. I'd also post a link to this service, but I'm afraid somebody might take it seriously and excommunicate me. Anyways, secret_admirer4567, if you really exist and you aren't just some convoluted new scheme for driving traffic to a pornographic web site, you might want to try again with your real name and email. Worst case scenerio: You get mondo karma points for making my day.
---
posted by Mark Wilson 12:35 AM
Saturday, March 2, 2002
Friday, March 1, 2002
Thursday, February 28, 2002
Slow Wave: Comics drawn from the collective unconscious.
---
posted by Mark Wilson 12:05 AM
Monday, February 25, 2002
Sunday, February 24, 2002
Apparently, I wasn't the only one to notice the great number of two's in Friday's date. It turns out that 20:02 02-20-2002 was a rare palindromic minute. If you missed it, don't despair, the next (and last) one will be in 2112. Be sure to pre-order your 2112 palindrome calendar right away.
---
posted by Mark Wilson 8:18 AM
The imfamous Lon Mabon is in jail for contempt of court. [Insert lame, but apt, "don't drop the soap" joke here.] Now if only Bill Sizemore would break a law, Oregon voters might not have to vote down the same old abuse gay rights, end support for the public schools and bring a sales tax to Oregon ballot measures this year.
---
posted by Mark Wilson 8:04 AM
Saturday, February 23, 2002
Friday, February 22, 2002
Speaking of etymology, here's the dish on my first name. From the biography of an early namesake, Marcus Cicero: Caesar was murdered by a group of senators on the Ides of March in 44 BC. [Marcus] Cicero was a witness to the murder, though he was not a part of the conspiracy. The murder led to another power struggle in which Mark Antony (of "Antony and Cleopatra" fame), Marcus Lepidus, and Octavian (later called Augustus) were the key players. Perhaps Shakespeare should have said, "Beware the Ides of Marks." Mowahahaha.
---
posted by Mark Wilson 10:51 AM
Today's date sure has a lot of 2's in it.
---
posted by Mark Wilson 10:35 AM
© 2002 Mark Andrew Wilson

Answer my desperate cries for attention: