Mark Wilson
J341
10-30-00
Numbers
The scarcity of women scientists
A quick glance into the classrooms of Swain, Lindley and Rawles halls at Indiana University would give a visitor a curious idea of the gender distribution of IU Bloomington. The female undergraduate population of the IU Bloomington campus has outnumbered the male population since 1982; however, the students that roam the halls of IUís physical science buildings are predominantly male.
According to this yearís IU Fall Enrollment Report, the Bloomington campus is 52.8 percent female. There are over 2,000 more women on campus than men. Strangely, most of these extra women are not showing up in IUís science classrooms.
According to the registrarís report, the enrollment of the College of Arts and Sciences, which is 56.7 percent female, shows that most women prefer the arts and social science to physical science. Women are the minority in every traditional science oriented major except biology, which has nearly the same percentage of women students as COAS does. The female undergraduate makeup of the computer science, mathematics, and chemistry departments are 16 percent, 38 percent and 40 percent respectively.
Assistant Dean for Womenís Affairs Carol McCord proposed that one reason women are shying away from science is because of the social assumption that women should be nurturers. Thus, women are likely to choose majors such as biology, which is popular with premeds, sociology and speech and hearing science. Speech and hearing science has the highest proportion of female students for a major in COASó98 percent. The second most popular major for COAS women is apparel merchandising and interior design, followed by French and Italian, psychology and sociology.
The gender trends at IU are similar to national trends. According to a 1992 study in the Digest of Education Statistics, women receive 53 percent of all bachelorís degrees but only 31 percent of all physical science degrees. On the other hand, health, education, foreign language, psychology and fine arts are most often populated by women. In 1970, only 43 percent of all bachelorís degrees were conferred to women and only 14 percent of physical science degrees were awarded to women.
Women are even harder to find as you climb the university hierarchy. Only 18 percent of students in the physics graduate school are women. Biology, chemistry and mathematics graduate schools all have smaller proportions of women students than their COAS counterparts. According to the Office of Womenís Affairs, in 1997 only 27 percent of all IU tenure or tenure-track faculty were women.
Catherine Olmer, one of three women professors in the physics department, teaches one of the few science classes at IU where women outnumber the men. Physical Science for Elementary Teachers is a required class for elementary education majors and the IU School of Education has a 75 percent undergraduate female population.
Olmer has observed that when women do poorly in a class, they tend to internalize the blame, whereas men tend to blame the professor. "All she has to do is look around her and see that there arenít a lot of females there, so maybe she isnít really cut out for this," said Olmer.
Women in Science Program Coordinator Mindy Criser agrees that male-dominated classrooms can be disheartening for women. "In upper division classes, with most of the students being men, it can be very intimidating for women," said Criser.
Furthermore, Criser believes that the abundance of male professors makes it more difficult for women to succeed in the sciences. Women faculty would "provide a role model for women so that they could see: 'oh look, thereís someone whoís being successful in this field and this is something I would want to do,' " said Criser.
She believes that women faculty and mentors would increase female retention in the sciences. WISPís goal is to attract and aid women in all levels of science by providing "a support system," said Criser.
Olmer also concludes that women need to be more confident in science than men to succeed. "If there are roadblocks, youíre either going to go through them or around them but youíre not going to let them stop you," said Olmer. "Sometimes stubbornness and tenacity are exactly what you need."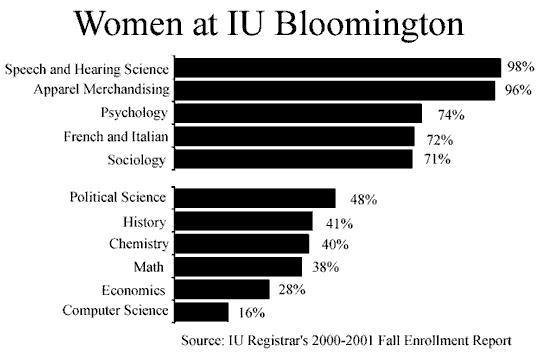 Home